Adventure Oregon: Pokémon Go
Everyone wants to come up with the new hit. We strive so desperately for this kind of success that we go so far as to relive the last big thing and evolve it into every medium possible until the public finally says "enough." There are a million examples of this today, including Ghostbusters 2, Star Wars: Rogue 1,
Finding Dory, and The Avengers, who I consider to be the biggest offender. It's more than movies; it's blankets, masks, sippy cups, and Lego sets. Coming up in 2018 we have the third of the series which promises to provide a whole slew of production as it is cleverly named Avengers: Infinity War – Part I, infinity being boundless and never-ending. Not to mention a slew of spin-offs for each and every Avenger. We have Iron Man 1, 2, and 3, Captain America 1, 2, and 3, Thor 1, and 2 with a third movie coming up next year. Plus Ant-Man, Black Panther in 2018, and there are serious talks of a Black Widow movie. If you're ever wondering why you're broke, it's because Disney and its subsidiary Marvel have all of your money. Disney spent 4 BILLION on Marvel in 2009, and they plan on getting back every. single. penny.  That rant aside, it is rare that we see a brand new concept take shape and take hold like Pokémon Go. A brand new, free-to-play, augmented reality game, Pokémon Go is changing the way we play.
Hey, there gamers! Lift yourself out of that computer chair and start chasing because there's no way around it, "you gotta catch 'em all"!  Seriously, all of them, every single Pokémon is one step closer to the
biggest, baddest Pokémon you can create and they aren't going to come to you. You have to go to them. Whether they're across the street, at the park, or under a bridge, if you want that monster in your pocket, get it! That's the concept behind the brand new Pokémon app that has everyone talking, downloading, and moving.
When my boyfriend Andrew downloaded the app, I was intrigued but had no intention of becoming a Poké master myself. The next morning, he appealed to my radio personality side and convinced me that I should be "in the know" for my listeners. I had the app for roughly ten minutes before I was running around the neighborhood in my pajamas. (This includes pajama shorts, and furry boots outside the Douglas County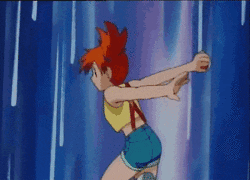 Courthouse.) We spent all of Sunday walking around downtown discovering murals and historic sites while collecting Pokémon and other useful items in the game. It was a rainy day spent outdoors for the pursuit of Pokémon, and it was the most fun I've had in my hometown in quite some time. I made friends with other players, ran into old friends I hadn't seen in a while, and got exercise walking the five kilometers required to hatch my first egg. That night, I forced myself to go to sleep and prepare for work. My legs were sore, my heart was full, and I was a satisfied from a full and happy weekend.
Monday morning came the backlash. While so many players took to their computers singing the praises
of this new game, so many others met it with disdain; criticizing it as something for children and the unemployed. While in my experience, it was the complete opposite. Couples in their mid-forties and thirties, groups of teens outside for the first time since summer vacation, and even families, pulling up to the pokéstops in silver mini-vans. People were moving, talking, and playing outside together. Many people argue that it doesn't count because they're doing so with devices in-hand, but I argue the very opposite. I think that Pokémon Go is one of the first and only examples of combining real life experience with virtual game play.  You cannot stay home and still be a winner, and if you're invested in gaining ground for your team, you can't even play alone. But what bothers me most is, why can't we just let people like things? Why does someone else's joy bother us so much? Why is it our concern?
Approval or not, Pokémon Go is winning the battle. It's transforming gaming, and forcing people to interact with each other, as well as interact with their surroundings. It's something completely new,
 completely unique, and it's a huge hit. I wasn't even a fan of Pokémon before I picked up the game and became an avid player. And I have to ask, is it worse that my boyfriend and I run around town collecting Pokémon rather than sitting on the couch watching Netflix like you and yours? Luckily, societal approval doesn't matter. There's nothing a geek knows better than experiencing disapproval for their hobbies and doing them despite that. After all, that's what makes a geek, a geek.
Tags appavengersbattledisneydouglas countyfriendsfungaminggeekmarvelmovingNetflixplayingPokémonpokemon go
You may also like...